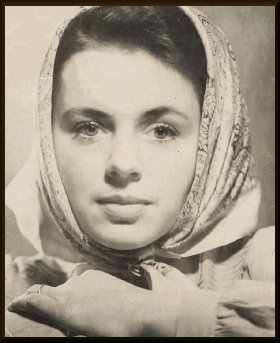 On the day I walked to Heatherley's in 1946, I was 30 years old. There were birds in the trees, the sky was a beautiful blue, and I'm sure I saw a skylark. And as I passed a barrel organ, I brought out my sketchbook and quickly drew the monkey and the wizened face of the organ grinder.

Heatherley's was an old house, painted a soft moss green, and as I walked in, I saw a beautiful circular staircase that held many students sitting or drawing or watching each other at work. Easels were everywhere, and the rooms were vault-like in their height and depth. There were three high floors, a lot of shiny-looking American male students, stretching their canvasses and working with great sincerity. Smocks were worn by everyone, and the sunlight filtered through the old blue and green glass windows.

I met the Principal. He saw my drawing and, with alactricity, accepted me. 'Come when you can.' I told him my working life was with the BBC, and that I was interested in portraiture. He introduced me to Frederick Whiting, a traditionalist, and to Iain McNab, a modernist with a beard. These were the two established professors of art in the school. The classes I went to included the use of oil paint or any medium. I can remember an American saying to me, 'Darken up your corners, kid, and it will come right.'

One day McNab set up a still life with a large red bowl, some flowers, and a violin. 'Paint it,' he said. I slathered the paint on with my palette knife and it fell in great majestic streams of different colours. Talk about impasto. It looked like the ridges of hell to me. When the paint was still wet, I crashed into it with the brush and flattened it in such a way that it looked like red iced blocks of rock - then I outlined it all in brilliant cerulean blue. The violin heaved with its burnt amber ridges, but came to life when I used the point of my brush and dappled it with brilliant cadmium yellow. What a picture. The china bowl I made so completely red that the eyes of all who would see it would surely be dazzled by its impudence. Had I not heard? Never use more than a little red - it draws the eye too much.

Class adjourned for lunch - outside to eat my own sandwiches with a fellow artist and then back to the studio. A few pupils were gathered around my 'mess' as Whiting said to them all, 'Beautiful colour, beautiful colour.' I was pleased. I was so happy.
Top of Page

AN ART STUDENT IN LONDON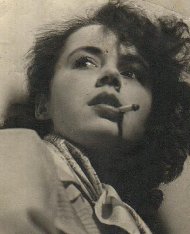 Ellinore Ginn - Age 30

There is a strange enchantment about the Thames down Chelsea way, where barges rest and artists meet to talk of form and colour; where old pensioners in their scarlet coats amble wistfully down Cheyne Walk and where Carlyle, now in bronze, surveys the park in which he stands. I was a student of art in Chelsea in 1946, and I wore a green skirt made out of blackout curtains which I had used at one time during the blitz, and I hoped with all my heart that I could wear at one time, I did. Art had always mystified yet excited me. As a child I can remember my strong reactions to colour - vivid colour. These reactions grew more tempered as I grew older, but subconsciously the vivid colours remained. There are wonderful tones in the waters of the Thames, in the barges themselves, in the old Chelsea bridge, in the flat greyish mud, and it is here that artists meet, to set up easel and try to capture the elusive grays and blues, greens and silver shades of the Thames embankment.

Chelsea Bridge

I used to wander down after school with my sketch book and charcoal and try to draw the old boats. Life in the suburb of artists was an exciting one, and a magnet of exhibitions drew my fellow students and myself into the heart of London to see and to learn about art. At the Victoria and Albert Museum there was an exhibition of Picasso and Matisse to which I went one lonely Sunday. I had heard so much about Picasso and Matisse, of their revolutionary ideas about colour, form and pattern, that I was prepared for a startingly unorthodox selection of works. My own impression as I jostled through the crowded gallery was that I, a student, was too insignificant, too unadvanced to understand any of the pictures or the reasons for which they were painted; but I did experience an overwhelming sensation as I looked at Picasso, for he conveyed a strength, and his forcing of colour into grim, exaggerated compositions horrified me. One particular picture seems to stand out in my mind - the picture 'A Woman Weeping', with tears the size of pears, the exposed tear ducts, the garish face with bared teeth, all triangular, yet all forming a picture too moving to ignore.

A Woman Weeping

For Picasso is an Expressionist who paints for emotional reactions, and during the many periods of unrest in France, he deliberately forsook realism in line and colour for an exaggeration of planes, to convey to the watching audiences his own feelings of disgust and sadness towards the conditions of the times. The earlier collection of King's pictures was to a large extent dissipated, and great works were destroyed during the time of Cromwell, Elizabeth and all the Tudor kings and princes. I saw George 3rd in rich blue satin and Nell Gwynn in a golden silk brocade. Here were beloved kings and cruel kings, scheming politicians and beautiful queens all together under one roof; and what looks of animosity and jealousy there were in some of the hard faces, and petulance and sadness in others! As a student, I frequently deplored the fact that I was not sure what art was. My first visit to the Tait Gallery convinced me that it was a personal thing, individual to each artist and expressed in so many ways. There was the photographic style, achieved by exactly reproducing what the eye saw. There was impressionism and the 18th century portrait style. There were abstract paintings by Braque, and imaginative paintings by Graham Sutherland and Frances Hodgkins. There were colour masterpieces by Van Gogh and Gaugin, and in the work of Henry Moore, massive form subjugating true dimension. Church art has for the last two hundred years been little more than a lifeless imitation of the past. The Baroque was the last vital ecclesiastical style, but the works of Roualt and Gill are reviving it. To see a painting of a stained glass window in a modern style is to see Roualt. I saw his pictures "The Old King" and "The Three Judges", and it looks as if he paints layer upon layer of paint, The Old King and it is the bold line of his figures with black or Prussian blue which makes them stand out as they do. At the Tait were also the pre-Raphaelite works of Rossetti, where his lines embraced the shapes and the drawing itself conveyed the emotion.. There was the fine draughtsmanship of Leonardo Da Vinci. There was Bonnard and Sickert, Manet, Dame Laura Knight and many, many others. A student friend and I attended the first day opening of Dame Ethel Walker's exhibition in Leicester Square. This grand veteran artist was there at the time, and she told me that her most important technique was the quickness of her brush. There were charming Eastern scenes of veiled market women and donkeys, which she had painted in the short space of half an hour. Ethel Walker is highly regarded in some quarters, but an opposing point of view which amused me when I attended her exhibition was expressed by an unpaid woman critic who, in a loud voice, let everyone know that she considered the work very moth-eaten. I suppose the fact that Dame Ethel purposely allowed her canvas to appear in places without paint provoked these remarks. One unforgettable picture was a portrait of the great artist, Pissarro, half awake. A s a student, I visited thatched Amberley in Sussex, a perfectly beautiful thatched village with a bridge and an old church, and a four-mile walk to Arundel Castle where the Duke of Norfolk lived. My first trip there had been on a painting holiday.

Arundel Castle

I had walked like a mountaineer with a lively pace through the Arundel Forest and and although for the moment I am taking you away from London, I want to tell that I met a very famous painter, William Longstaff, the official Australian artist of World War 1. I had come across him on the high embankment which overlooked the winding road. 'Come up here, little girl,' he said, noticing my easel, 'and paint with me.' Longstaff told me he would stay out in the air all day until the sun set behind the trees, painting the lovely oaks and the dappled leaves, but at night-time the canvasses in his home would speak only of the brutal war events that had taken place and his paint would run red as the blood of the soldiers ran red so many years before. He was a spiritualist and showed me paintings in his house which were created under the nightly influence of Sir Arthur Conan Doyle. The Angel of Mons was one work; the Vimy Ridge was the other. They were huge oil paintings and showed the massing of soldiers with the huge white wings of an angel protecting them from their enemies. He was a lovely man, and his wife showed me through their home before bidding me goodbye for my return walk to Amberley.

2YA Wellington Broadcast - New Zealand
January 02, 1948

Please email me for information about Heatherley's School Of Art.

Top of Page
---
Privacy Policy
Copyright Policy