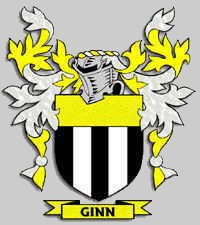 ~ The "Ginn" Family Name Originated In Sligo - Ireland ~
The Ginn Family Coat of Arms traces its roots back to ancient times where it was carried onto the field of honour with chivalry to defend family, allies, King and Country.

Note:
This page has the Ginns, relating directly to our family, in red text.
For example: Our Father - 12th. Generation -
Russell Henry George Ginn
There are a few gaps which I hope to fill when information becomes available to me. I have not put in marriages etc. for all the children, only the ones relating directly to us, as they are quite extensive.
The abbreviations are as follows: (b) Born (c) Christened (m) Married (d) Deceased (bu) Buried

Russell Henry George Ginn:
(b) 23 November, 1916.
Wellington, New Zealand
(m) 26 January, 1946
La Falaise Hotel, Ventnor,
Isle of Wight
(d) 22 January, 1996.
Wellington, New Zealand

Jane Ellinore Stuart:
(b) 4 August, 1915.
Waterloo, Ontario, Canada
(d) 24 May, 1995.
Titahi Bay, New Zealand
(bu) Whenua Tapu Cemetery

Our Grandfather
George A. Ginn

George Alfred Ginn:
(b) 17 September, 1874.
Queenstown, Cork, Ireland
(m) 26 December, 1914
Dunedin - New Zealand
(d) 18 May, 1926.
Wellington, New Zealand

Ivy Fenwick (Anna) POPPELWELL:
(b) 10 October, 1882.
Dunedin, New Zealand
(d) 18 January, 1971.
Wellington, New Zealand

George and Ivy (Anna) had 1 child:
1. Russell Henry George Ginn

Our Great Grandfather
George William Ginn & Family
1881. Strood, Kent, England





Photograph ( Left - Right )
George Alfred
Margaret Ginn (Hunt)
Anniss Margaret
Mary Arabella
George William
Florence Kate (Flossie)



Laurence and Albert were not in the photograph because they were not born until 1883 &1888 and Mary Adelaide was not, because she died in 1874.

George William Ginn:
(b) 18 April, 1845.
Greenwich, Kent, England
(m) 5 December 1866.
Queenstown, Cork, Ireland
(d) 25 March, 1915.
65 Danecroft Rd, Herne Hill, Surrey, England

Margaret HUNT:
(b) 6 December, 1846.
Greenwich, Kent, England
(m) 5 December 1866. Queenstown, Cork, England
(d) 22 January, 1913
Gillingham, Kent, England
George William and Margaret had 7 children:
1. Anniss Margaret Ginn
(b) 6 November, 1867. Queenstown, Cork, Ireland
(m) 22 September, 1900. Cliftonville, Margate, Kent, England. Frank Gentry
(d) 15 July, 1945. Farnborough, Kent
2. Florence Kate Ginn
(b) 29 December, 1870. Queenstown, Cork, Ireland
(d) 10 April, 1903. Gillingham, Kent, England
3. Mary Adelaide Ginn
(b) 12 September, 1872. Queenstown, Cork, Ireland
(d) 7 November,1874. Queenstown, Cork, Ireland
4. George Alfred Ginn
(b) 17 September, 1874. Queenstown, Cork, Ireland
(d) 18 May, 1926. Wellington, New Zealand
5. Mary Arabella Ginn
(b) 1 August, 1879. Queenstown, Cork, Ireland
(d) 28 December, 1889. Chatham, Kent, England
6. Albert Theo Ginn
(b) 20 August, 1883. Medway, Kent, England
(m) 15 September 1909. Lambeth, London, England. Elizabeth Mary Ann Goldsmith
(d) 1972. Whitstable, Kent, England
7. Laurence Percival
(b) 8 July, 1888. Chatham, Kent, England
(m) 30 May 1915. Mildura, Australia. Daisy Jevero Midgley
(d) 19 April, 1971. Mildura, Victoria, Australia (colon cancer)
( To view more photographs and information about George & Margaret Ginn -
Click Here
)
Top of Page

Our Great-Great Grandfather
George Ginn & Family
Photograph Taken: 1857-1859


Photograph ( Left - Right )
Anniss Arabella - Our Great-Great Grandmother
Anniss Ann
Henry-Our Great-Great-Great Grandfather
George William - Our Great Grandfather
Maria Eliza Jane
George Ginn - Our Great-Great Grandfather
Alfred Durant


George Ginn:
(b) 1822. Richmond, Surrey, England
(m) 24 July, 1844
Bermondsey, Surrey, England
(d) 1895. Plumstead, Kent, England

Anniss Arabella MORLEY:
(b) Portsmouth, Hampshire, England
(c) 1 January, 1823
Portsmouth, Hampshire, England
(d) October 1896
Plumstead, Kent, England
George and Anniss had 4 children:
1. George William
(b) 18 April, 1845. Greenich, Kent
(d) 25 March, 1915. Herne Hill, Surrey
2. Anniss Ann Ginn
(b) April 1853. Greenwich, Kent, England
(m) 27 June, 1877. Theophilus Charles Eamer
(d) 12 January, 1922. Hampshire, London
3. Alfred Durant Ginn
(b) January 1856. Deptford, Kent, England
(m) 3 June, 1881. Croydon, Surrey, England. Louisa Baldy Roper
(d) 7 October, 1932. Folkestone, Kent, England
4. Maria Eliza Jane Ginn
(b) 1857/58. Rotherhithe, Surrey, Englad
(m) 17 July, 1879. William Avis
(d) October 1897. Lewisham, London, England