Ellinore Ginn's five daughters are all accomplished in their own right, each inheriting some of Ellinore's talents in the artistic world. Diana's website link may be found on the 'Links Page'.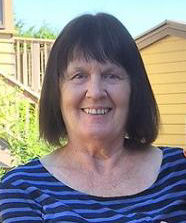 Margot
Actress - Writer
- Children -
Mark - Melanie - Mitchell - Angela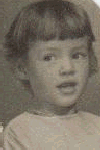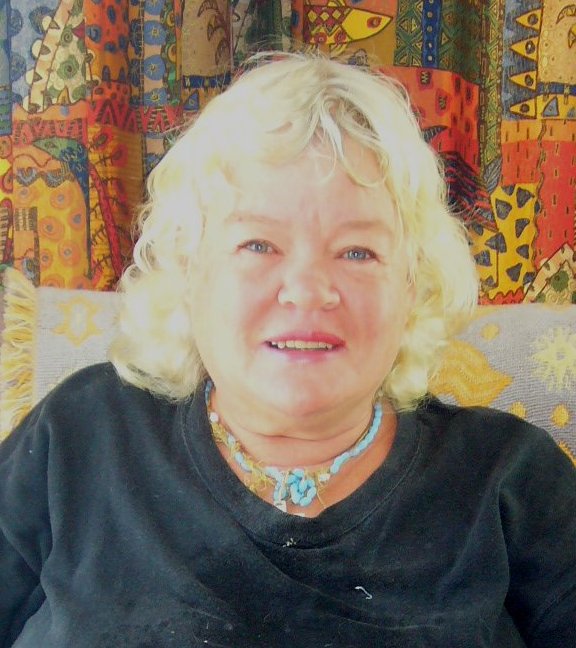 Joanna
Linear Artist - Potter
- Children -
Roa - Joseph


Diana
Art Restorer - Portraitist
- Children -
Clyde - Eve


Victoria
Photographic Artist & Author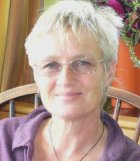 Adair
Artist - Craftsperson
- Children -
Mana - Hina - Rita

Margot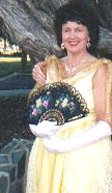 Margot On Stage
I have worked on many NZ local dramas as an extra - including: Close to Home, Fire Raiser, Crime Watch, William Tell, Mirror, Mirror and Market Forces - plus a few Television commercials. I enjoy writing and have written many short stories over the years. Some have won prizes - and others have been published in magazines.

I am an Actress and belong to Porirua Little Theatre, that Ellinore (Mum) founded in 1950. I have studied singing, and have had solos to sing over the years in some shows and also had small cameo parts to play. I also belong to other Societies in Wellington. Other hobbies of mine include: knitting, reading, home decorating, bush-walking, sunbathing, daydreaming and computers.

Joanna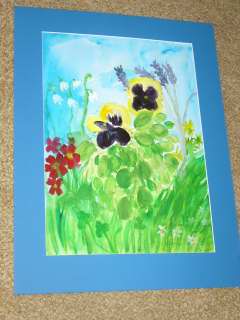 Flower Garden
© Joanna Ginn
I do a lot of painting of landscapes, which is my speciality. My favourite colour is green as you can see in my paintings. I have had several exhibitions of my work - one in conjunction with another woman, was opened by Sam Hunt, in Wellington. I sold out on the first night.

Another exhibition of my work was at my mothers Art Gallery in Wellington - 'The Red Cottage Gallery,' and then two years later, at her 'Red Cottage Gallery' in Waikanae. I am also a regular artist at Wanganui's Sergent Art Gallery each year. I love bush walks and I find pleasure in writing short stories and making simple but lovely pieces of pottery.
Gypsy
© Joanna Ginn
A Park in Wanganui
© Joanna Ginn
'Gypsy' was accepted at the Sarjeant Art Gallery - Wanganui
Old Buildings
© Joanna Ginn
Boat Sheds
© Joanna Ginn
Top of Page

Diana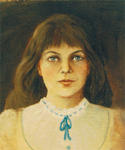 Eve
© Diana Ginn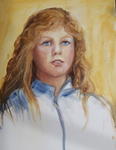 Bree
© Diana Ginn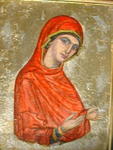 Madonna
© Diana Ginn
My portraits are of subjects commissioned over the years or faces I have liked and seen an aspect of. The richness of oil paint brings a life to an otherwise flat 2 dimensional canvas.

After many years of painting portraits, I reached a block. and went back to the origins after a partial scholarship was offered to The Aegean Center for fine Arts in Greece and Italy where I learned fresco and icon painting from masters of the works. These works, are done in egg tempera on gesso and gold leaf surface, using the technique of the original artists. My latest creativity is using river stones to create simple artist jewellery

Victoria
| | |
| --- | --- |
| | Her speciality is a natural light photographer. She have travelled extensively on a photographic journey - including Indonesia, Thailand, Burmah, India, Nepal, Australia, Vanuatu and the Solomon Islands. This has led to the publication of her book - 'The Spirited Earth' - Rizzoli, New York, 1990. A book of Dance, Myth, and Ritual from South Asia to the South Pacific. Another book, Freedom's Edge is an exciting insight into a horror of a journey she experienced while trvelling |
Victoria has had photograph collections in many New Zealand galleries and the Centre Georges Pompidou, Paris. Has also done Creative stills advertising in US and European TV, Newspaper, Magazines - and in NZ feature films she was the Chief stills photographer for UTU and MAURI.

Adair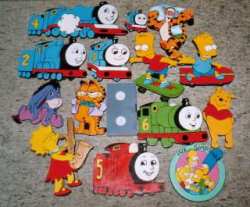 Wall/Door Hangings
Made By: Adair Ginn
Wall/Door Hangings
Size made to order:
Subject made to order:
Child's name may be added:
Also available: Bedroom murals of your choice!!!!
Hullo - here is a more precise description of what I do as an 'Artist & Craftsperson'. I have explored the creative arts of Sculpture, Papier Máché Wood-work, and mural painting for a couple of decades now and receive immense pleasure when working with them. I look forward to the many years ahead of creativity and inspiration. I love the delightful colour and design that goes into my paintings and sculpture. I am very grateful to both my parents, for without them, I would not be me.
Top of Page

If you like my site please click on the badge above to vote for it.
Thank you very much for your support and vote!
Please email me for information about Ellinore's daughters.

Top of Page
---
Privacy Policy
Copyright Policy