W E L C O M E

To Page 5 of Awards
Thank you to everyone
who made it possible



---

Congratulations you have been awarded the "World Web Award of Excellence".
Your site meets all of our qualifications that makes for a great site. We enjoyed our visit to your site, keep up the good work.

Once again congratulations.
Sincerely, Pat .....21 April 2001
---

Hi,Congratulations!
You won the Bronze award from -=MadCool=- Inc! We thought your site was above the average websites out there. It was enjoyable and fun to visit, and shows Heart and Creativity. As a result we are happy to give you this award. Not many people can win this award! Good Job! Keep up the good work! Good Luck on your site and Congrats again!

Awards Team ....16 March 2001
(site now closed)
---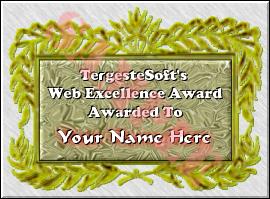 Hello Margot
Congratulations! Our judges have voted you the TergesteSoft Excellence Award for your efforts on your site. It is a great site about a remarkable lady! You have been added to our winners page. Keep up the good work and I will visit you again in the future.
All the best, Merry Christmas and Happy New Year.

Regards, Eddy TergesteSoft ...... 28 December 2000
(site now closed)

Please Note: This award is not my original one as when my site went down, I had not saved the one with my name on, so have this one instead.
Top of Page
---

Congratulations! Your website has been reviewed and chosen to bear the 2000-2001 Golden Web Award.
You've worked hard - Proudly display your award ...... 1 November 2000
(site now closed)
---

Hello Margot
Congratulations!!......Your site definitely qualifies for the "Critical Mass Award". A very nice site, excellent design, clever graphics, great photos, and your content is informative, entertaining, presented well and easy to access. A worthy tribute and a positive contribution to the Web. Thanks for helping make the Web a more interesting, fun and attractive place to visit. I really enjoyed my visit to your site and will return again when time permits :)

Cheers,...Bill Darling .....9 October 2000
(site now closed)
---
Congratulations! You have won the Pegasus Web Award called - Creativity Award for Artistic Excellence! Pegasus awards are granted to exemplary and outstanding sites that stand out from the rest and are a positive contributions to the online community. Congratulations on a job well done! Have a nice day.

Alenka .....16 September 2000
(site now closed)
Top of Page
---








---




Awards Won by UWSAG Rating





My Complete Awards List

Thanks to the judges for their time and for these Awards.
Don't forget to click on these links to visit them
and apply for them for your own site.






Or, you can go directly to each page below to view.









Top of Page

---




Privacy Policy Copyright Policy


For enquiries Contact me.