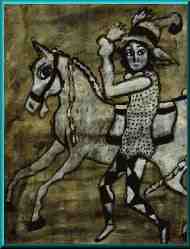 Riding Through The Streets Of The Old City

One day a dancer in a black and white costume ran past me. His horse was wild with excitement. We are off to the carnival of the dance the youth cried out. "Are you Harlequin?" I asked with my most timorous voice hoping to find him at long last, that elusive creature. "No. I am his friend Gillano" he replied but run quickly for Harlequin will be at the night carnival". He ran on. The old city rocked with the sounds of fireworks and the shouts of the children could be heard in the distance. I could see Gillano running, then suddenly he leapt upon his horse with great abandon and joy. The shops were festooned with gaily coloured ribbons and balloons were everywhere. My heart too was joyful.

I had gone back to my quiet room overlooking the noisy river and in my cupboard I found some old clothes which I had used as a child; gaily coloured they were and in my own Harlequin suit of blues and greens, I was transported to the worlds of make-believe. Was I not the Queen of the streets?

Ellinore Ginn 1983




---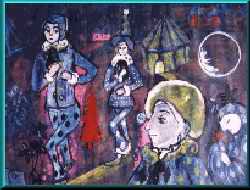 Going To The Night Fair

Down the avenue there came a strange troupe hurrying past me towards the tents and the orchestras. Everyone was going to the Night Fair carrying their fruits and flowers to the stalls. Some of them were bedecked in vivid clothes and jewels. A little white dog rolled in his hoop down the road and I watched silently as the merrymakers looked at me in great solemnity.

Ellinore Ginn 1983





---
Acrobats and Horses

In the arenas, the horses and the clowns leapt together twisting and turning, their manes and tails, flicking wildly. The children were seated everywhere eating lollipops and enjoying the excitement. The Acrobats leapt onto the horses' backs with such agility and grace it was unbelievable. The drummer with his large drum made such a noise that all thoughts of my finding sweet Harlequin left my mind and so I drew the horses and the clowns, and the drummer and the little children and by the time I had finished my work for the night it was time for the big town clock to ring forth its chimes.

I have been told that Harlequin has a ruffle around his neck. A small cap on his head. I have been told that blue is his favorite colour the he loves to sit alone with his dog. I have been told that Harlequin loves all children as his brothers and sisters.

I have been told that he loves and cares for all the stray birds he can find. Yes, I have been told that Harlequin loves music. I have been told that all the flowers can claim his love. All the gentle animals know him. Even the mice who run in and out of his sleeves know him. I have been told that he loves goats and donkeys, and ponies and cats.

Ellinore Ginn 1983


---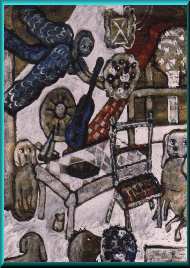 The Celtic Story of a Strange Little House
There is a story that comes from the Celtic Isles that Harlequin lives in a small white house with three white dogs,and that he spins his wool on a wheel of his own making. There is a story that Harlequin sits at his table with a patchwork cloth, and that the angel of the northern lands, hearing his violin, throws bouquets to him.
There is a story that the blossom tree is always in bloom; that the ruffles around his neck are sewn from those white blossoms; but who knows the truth? If we can observe the sweetness of Harlequin, his patience and gentleness we shall be happy.
Harlequin I have been told, loves goats, and indeed there is a goat who lives with Harlequin and he sometimes walks through the fields and streets bringing with him blossoms or fruit.
So I have ventured forward, and I have seen many small goats in many small gardens, but never have I seen Harlequin and so it was with some surprise that my friend the young "King of the streets", the proud "rooster" pulled at my arm one day and said to me, "Buy some flowers and I'll tell you where the Harlequin is living". I was amused and bought his flowers.
Down the ancient streets - and over cobblestones I have walked and over the turnstiles and through the market ways I have moved, to find that special garden where the grass at night glows like emeralds - where all the honeysuckle bushes turn their trumpets to the bees of the air. Before I noticed the garden, I saw amongst the trees two air ships bedecked with festival ribbons. They had floated downwards but had become entwined in the bushes.
An enchanted sight indeed, for with the white horse pulling a tired old balloon, I knew that THIS was the home of Harlequin at last. The roof of the house was swarming with cats and children who had tried to ride the horse and had fallen off, for only Harlequin was the true rider.
Ellinore Ginn 1983

Top of Page
---
I walked into the house. It was all as I had expected it to be. The silks of the windows were of the finest taffeta in gay stripes. The chandeliers glistened (as stars do when all is still and dark). Oh, what beautiful chandeliers. Now I knew he lived not in a cottage, but in this fine old mansion with its gables and turrets: Harlequin must have traveled everywhere, for the French plates on the walls were of Dresden design, the chairs were from the courts of the King of France - the satin cushions were embroidered with diamonds, the staircase stretched its banisters to a top balcony where in a small gallery I saw a sad boy sitting with an apple in his hand. Wonder of wonders.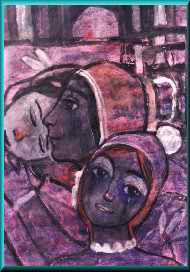 Friends Weep For He Is Ill

Are you Harlequin? I asked most quietly. He shook his head and pointed to the large bedroom beyond whose door I could see a canopied bed. He went on eating his apple. "Why are you sad?" I asked him. Harlequin is ill today. He put his head down, and in the courtyard below small silent figures were sorrowful, and tears ran down their sweet faces.

Now I know that Harlequin lives in a beautiful house, that he extends his welcome to all manner of children and animals,that he shares all his possession with others. I am told that he has learned to carve the most exquisite dolls and children's toys, and surely he must sell these to all the markets of Europe. I am told that the rooster that stands on his chimney wakes him each morning and that his small friends enjoy the sound, for they know that Harlequin will run with them through the grass and over the hills and downs. They will pick dandelions for soup and peer into the hedgerows for soft birds nests.

They will succor the hedgehogs who are ailing and bring the red robins some much needed worms. I walked into the great bedroom. On the floor was seated a young boy dressed like Harlequin and holding the rooster. He pointed to the great bed.

Ellinore Ginn 1983


---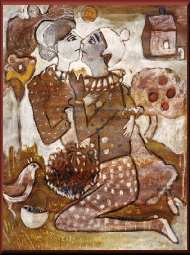 Harlequin Lives

The soft silk curtains blew around the form of a white figure sitting in an old mahogany bed. He had a tricon hat upon his head, and ruffles around his neck and sleeves. In his hand he held a small bird, who had found comfort amongst the covers. Some strange wild birds were sitting on the end of the bed and on the table I could see a great gilded cage with two pin doves within. Hanging from the majestic ceiling, were balloons of every colour. My heart was beating and my pencils scattered onto the floor.

As I moved forward, a small child ran out from behind the curtains holding a china teapot. I stood there and gazed at the splendid person beneath the costume. This was not the young Harlequin I had imagined. This was not a silky frivolous person. This was a "Lord", a "King", a Nobleman", who wore his favorite colours, who spoke sonnets to the night winds.


"Are you Harlequin?" He nodded. My frailty was great against his strength. At last I was home with Harlequin. I rested my head on his shoulder. "Harlequin", I whispered, "Take your medicine". He smiled and nodded. I knew he would recover. I knew.

Ellinore Ginn 1983


---
Epilogue: Well, of course, this is the end of my story, and I hope you have traveled with me. Now you know that Harlequin does not live in the caves with his brothers. The caves with the stalactite snows of the North, nor with the blossoms of the Northern sun. You know also that the ponies who come to the mouth of the cave are only in your imagination. Well, anyway, that is what I think. It is nice to know that Harlequin must be very old by now, resides somewhere, in an old city, in an old street, in a very old house with his cupboards full of costumes and beads - his windows always open to the swallows and larks, the butterflies and birds ( not forgetting the mice ). &nbsp - Ellinore Ginn -
---